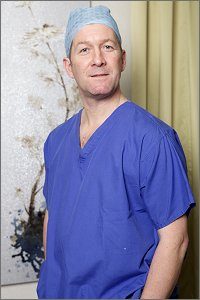 Many women lead very busy lives, sometimes looking after herself is not their first priority.
Mr Downes believes that women's health issues are very important and should not be ignored. He suggests that women should have a yearly gynaecological review to address any specific concerns and to have a regular general gynaecological check up. Cervical screening can ease unnecessary worry and can potentially even save lives.
Should you have pelvic pain, discomfort, heavy bleeding or any other gynaecological concerns these can be discussed and reviewed in your private consultation with Mr Downes. In his consulting rooms he can perform swabs, cervical smears and biopsies if needed. A pelvic ultrasound scan can also be performed at the same time if indicated.
Mr Downes sees many women with endometriosis, a common cause of pelvic pain. There are various treatment options available for endometriosis and an individual treatment plan will be agreed following a detailed consultation.
Watch Mr Downes talking about gynaecological matters from how to choose a Gynaecologist to what to expect from a consultation and beyond – click here